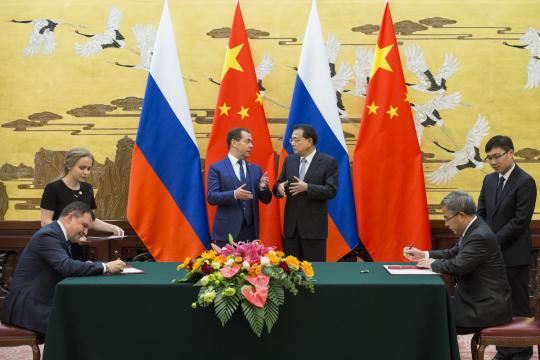 Premier Li Keqiang and Russian Prime Minister Dmitry Medvedev converse while witnessing the signing of several cooperation documents on Nov. 7, 2018 in Beijing. (Photo by Kuang Linhua/China Daily)
Cooperation promoted in agriculture, energy, aviation, finance, innovation
Premier Li Keqiang arrived in St. Petersburg on Monday as he began a three-day Russian visit aimed at raising bilateral cooperation to a higher level.
Upon his arrival, Li said he hopes his visit will bear new fruit in promoting all-around pragmatic cooperation between the two countries and benefit both peoples.
In a written interview with TASS Russian News Agency one day ahead of the trip, Li said the visit is expected to take stock of the progress made and outline plans for the future.
China and Russia will open new areas of cooperation and unlock new potential, expanding investment and market access to create business opportunities, he said.
Noting that this year marks the 70th anniversary of China and Russia establishing diplomatic ties, Li said bilateral ties have grown increasingly stable, mature and resilient, and are now "at their best in history".
The two sides need to consolidate strategic trust and enhance mutual support to keep bilateral relations on the right track and free from external disturbances, he said.
During his stay in Russia, Li and his Russian counterpart Dmitry Medvedev will co-chair the 24th regular meeting between Chinese and Russian heads of government. They will witness the signing of a number of cooperation documents in areas of agriculture, energy, aviation, finance and technical innovation, and issue a joint communique, according to the Foreign Ministry.
Li said that over the past 23 years, such a regular meeting mechanism has grown from strength to strength and plays an increasingly stronger role in planning, coordinating and advancing bilateral cooperation.
Noting that the world is undergoing shifting dynamics and that multilateralism and free trade face headwinds, Li said China will continue to firmly support economic globalization and work with other countries to safeguard the multilateral trading system centered around the World Trade Organization to realize more open, inclusive and balanced economic globalization.
The role of economic globalization and free trade as the cornerstones of global development and prosperity must not be shaken, he stressed.
He pointed out that within Sino-Russian cooperation, the role of large and medium-sized companies will be further leveraged as the main force advancing strategic projects. Attracting small and medium-sized companies to cooperate in some emerging industries like e-commerce and the digital economy will also be promoted.
The two nations will continue to expand technological cooperation as they both seek innovation-driven development.
China will integrate its industrial, capital and market advantages with Russia's strengths in resources, technology and talent to deliver greater benefits to both peoples, he said.
In response to a question of whether China is now facing an economic slowdown, Li said that despite slower growth and increased fiscal constraints, government spending to meet essential livelihood needs has kept expanding, which continued to bring improvements in people's lives.
The government still has ample means and capabilities for macro regulation and will help to foster a stable environment for development, Li said, adding that China has full confidence and ability in overcoming challenges and maintaining steady and sound economic development.
Cooperation between Chinese and Russian large and medium-sized enterprises has proved to be successful over the years, and this time the premier is paying special attention to projects between small and medium-sized enterprises that signal bilateral ties are getting increasingly pragmatic and sustainable, and small businesses will bring more vitality to two-way economic ties, said Xu Poling, a senior researcher at the Chinese Academy of Social Sciences.
The regular meeting mechanism between prime ministers provides a very solid platform for the two countries to explore pragmatic cooperation projects and resolve differences along the way, Xu said.