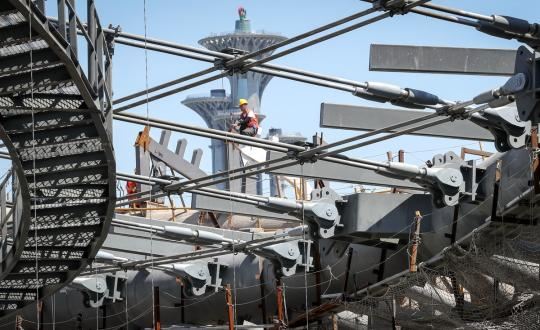 Employees of State-owned Beijing Urban Construction Group work on the construction site of a sports facility in Beijing. (Photo by Kuang Linhua/China Daily)
China may announce a three-year action plan on reforming China's State-owned enterprises next year to promote mixed-ownership reform, cut government subsidies and improve earnings at home and abroad, experts and business executives said on Wednesday.
Their remarks came after the Leading Group for State-Owned Enterprises Reform of the State Council decided the day before that a three-year action plan will be formulated for SOE reform with a clear timetable and road map.
The plan will put forward a clear mission and specific evaluation measures to better define the ongoing mixed-ownership reform, strengthen supervision of SOE assets, improve their innovation and enhance incentive mechanisms to boost productivity, said Li Jin, chief researcher at the China Enterprise Research Institute in Beijing.
As government agencies, SOEs and research institutes need time to carry out preliminary work before the plan is finally put in place, Li expects it will be officially introduced by the central government in the first half of 2020.
To build an economic pattern of coordinated and shared development for SOEs and private enterprises, the government began to select SOEs for the introduction of mixed-ownership reform in 2016. It is considered a flexible method to optimize State assets management, enhance the protection of intellectual property rights and unleash employees' innovative potential.
The State-Owned Assets Supervision and Administration Commission, regulator of the country's SOEs, released a guideline last week on mixed ownership of centrally administered SOEs to standardize the process, ensure reform via marketization and effectively transform central SOEs' operations during the reform.
These efforts aim to boost SOEs' earning ability and further cut their administrative and monopoly roles to better adapt to the changing market environment, said Fan Zhi, director of the corporate reform office at Beijing-based China National Salt Industry Group, the country's biggest table salt maker.
That central SOE signed deals with 13 companies including Guangdong Salt Industry Group and China Reform Holdings in September, to raise more than 3 billion yuan ($428 million) to support the listing of China National Salt Industry Holdings Co, one of its units, on the stock market next year.
There are still some SOEs that are reluctant to participate in the mixed-ownership reform, said Li Yunfeng, director of the corporate reform office at China Datang Corp, a State-owned power generator.
"This reflects that some SOEs don't understand the purpose of such reform," he said, adding that the government needs to make the objectives and paths of the reform process clearer to facilitate change.
Huang Qunhui, director of the Chinese Academy of Social Sciences' Institute of Industrial Economics, said that central SOEs, which are facing a changing market environment and new challenges, also need to make more efforts to guard against potential debt hazards.